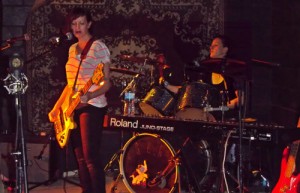 I was so excited about the concept of Girls Rock Camp that I couldn't wait to check out the finale yesterday evening at The New Black. The camp was headed by Nicola Lefevre of the Sequicons along with fellow bandmate Jennifer Brake, Alexis Nederhoff (enemy.envy, The XOXOs), and Meisha Louis (Meisha and the Spanks). They had several guests dropping in over the week to give them lots of information about the music industry and particularly what it's like to be a woman in the industry. The hard work paid off and the finale was evidence of that. We had the pleasure of seeing three amazing bands and one collaboration playing a mixture of original songs and covers.
The evening was kicked off by the Sequicons who played a few songs to warm up the eager crowd. The instructors all came out and did an awesome rendition of Strange Times by the Black Keys, showing that the girls were in great and talented hands all week.
The first band to enter the stage was Kool Magic Chicks, ranging in age from nine to 11 years old. The girls came out looking like true rock stars with a funky vibe. They started with an original song that they had written over the week which started strong with harmonizing and a solid introduction of their new-found talents on their instruments. Their song was whimsical and sweet, with lyrics like "happily ever after / I might become a dancer" and "let your imagination fly / don't let the magic die". You would have to have a cold heart to not be melted by such a lovely song. They played their cover song next – (I Love) Rock n' Roll by Joan Jett and The Blackhearts. They came out strong and ended with a sing-along from the audience. A strong performance, they ended to loud cheers from some new fans.
The next showcase was a collaborative effort by three of the girls. They played an original song that had strong vocals. The girls were older, and their song of unrequited love was mature and heartfelt. A well done effort, it was enjoyable to watch, and amazing that they wrote their song in one week.
The next band Cactus Everdeen hit the stage next. An older group, they had two guitar players, a bass player, a drummer, and a vocalist. They started out their set with a cover of Pumped up Kicks by Foster the People. Given that they are all junior-high aged, one would think they would maintain the pop sound of the song; instead they gave a totally heavy and awesome rock and roll rendition. They followed up their cover with an original that was heavy metal in all the right ways. No hair metal here, people – this was the real deal. An impressive song, they rocked out and it was clear that they had made the most of rock camp.
The last band to play was Depths of Truth, coming out with two acoustic guitar players, an electric guitar player, a bass player, a keyboardist, a drummer and several vocalists. Their first song an original called The Great Unknown, and it had a vibe reminiscent of Taylor Swift, but with just the right amount of rock and roll to make it all their own. Their vocals were beautiful and their song had heartfelt lyrics like "let's let the sun tell us where to go home". With several strong vocalists, they did a great job of harmonizing. They showed some of the other skills they learned at camp in their cover song. They gave a younger member a chance to highlight her vocals in their song Sugar We're Going Down by Fallout Boy. They did a fantastic version, which highlighted their vocal chops as well as their talents on their instruments. A solid performance overall.
According to what I saw last night, I would say Girls Rock Camp was a huge success, I was blown away by the talent of the young girls and their courage to get up on stage and show off what they had learned. The instructors provided a safe, warm, and caring environment, which I am sure had a lot to do with the success of all of their performances. It will be interesting to see what happens with all of these future rock stars and talents – I am sure they will be making strides in the Calgary scene in the years to come!