If the Easter Bunny didn't bring you egg-actly what you were looking for, your best bet to continue your hunt would have been to hop down to the Ship & Anchor on Sunday night, and treat your ears to some amazing local talent, opening for one of the hottest acts to come off the West Coast right now. All yolks aside, this no-cover show (no need to shell out any cash), was a basket of goodness for every bunny in attendance.
The night started strong, with The Bleachers Roaming Storms starting off a trio of opening acts on the bill. Unfortunately, their set was finishing just as we arrived, but the few remaining notes that we heard as we came in the door sounded pretty nice, and I will certainly be keeping an eye out for their next gig.
The jelly in the rock sandwich was the ridiculously entertaining audio attack that was Calgary's Of Anchors. Cursing a blue streak that would make a sailor blush, these guys had more fun than any one else within a ten block radius. Not for the faint of ear, Of Anchors is a full frontal assault on your ability to sit quietly in the corner, nursing a beer and groaning over the end of a long weekend. These guys are fucking fun.
Batting cleanup, Roaming Storms The Bleachers had a pretty hard act to follow, but their relatively mellow and ear-pleasing set was like a deep, cleansing breath before the big show. Of course, keep that mellowness in perspective, as what might seem chill for this show would probably melt the face off any other concert-goer. Clean, fun and strong on their instruments, Roaming Storms are another shining examply of how amazing the local scene is.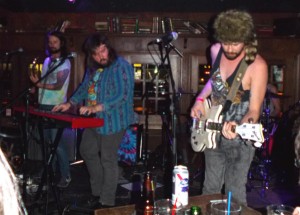 Of course, Vancouver's Bend Sinister was the main draw, and the road-weary rockers did not disappoint. The last stop of their extensive (and expensive!) cross-continent tour, you could forgive them a bit of exhaustion, but they didn't even slow down. Their usual high-energy performance was bumped up a notch by the cozy Ship space, creating a bubble of awesome that pulled the crowd in and made the show equal parts intimate and explosive. They gave shout outs to Calgary's greatest athlete; the Dudes in attendance, and in exchange, we the audience gave shout out as the end of every awesome song.
The band showcased a number of tracks off their new album, Small Fame, as well as some old favourites – and for an encore, even threw in a very well-received rendition of These Eyes (Winnipeg apparently didn't like it, but I can't imagine why, unless they were expecting the Maestro Fresh Wes version!). If you haven't seen a Bend Sinister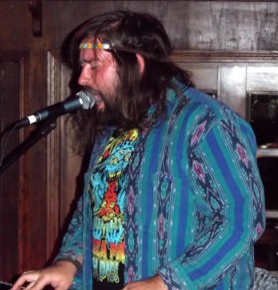 show live and in person, you really need to track down their next local performance. You will never see a band work so hard in the pursuit of pure audio joy. They were dripping sweat by the end of their set, having rocked so hard that they'll probably need to stretch a little the next morning. Imagine if Freddy Mercury grew up in Vancouver with a permanent smile on his face – he'd be totally jealous of the power of Bend's rock.
The show ran until the early hours of Monday morning, but you won't find a single complaint among the people basking in this show's shining glory. Hard rocking with more joy than a school field trip to a candy convension, the Ship could barely contain this much awesome.